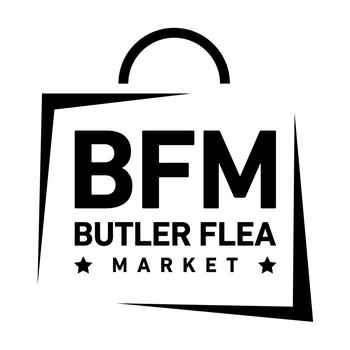 Reserve a Booth @ The Flea Today
Online Vendor Reservation and Payment is coming soon.
Until it's ready, please call us (724) 285-4703 to reserve a booth
OR just show up 7-8am Sunday morning, and we'll find a spot for you!
Top Reasons to become a Seller
Display your products to hundreds if not thousands of customers at Butler County's Biggest and Best Flea Market.
Butler Flea Market has been a staple in the Butler Community since the early 1990s.
MAKE MONEY
Selling at the Flea is a fast, easy way to make extra cash on the weekends.
CHEAP
Outdoor spaces start at $12 and indoor at $20.
Start your own Business
No long term commitments, fast and easy to set up a booth. Work hard, create value and watch your business grow.

Get in Front of Hundreds of Potential Customers
Make waves in the market and kick-start growth by establishing a brand identity in the local community.

Fun Fun Fun
Enjoy selling to bargain hunters

Tips and Tricks to sell successfully
Visit the property
If you've never sold at the Butler Flea Market, visit the property first to see what products are currently for sale and what items have the least amount of competition.

Manage your display
Have unique signage that clearly explains your business. Make your inventory stand out by using a table cloth or display racks/cases and change your display and/or offerings every few weeks.

Try it for a month
If you're new to our market, give it a try for a month. Flea markets thrive on beautiful days and if no other events are going on in Butler or the surrounding area. Businesses ebb and flow, don't give up too quickly.

Use social media
Use social media channels (Twitter, Facebook, Instagram, TikTok, etc.) to amplify your reach, display your inventory and attract customers.
Engage customers
The market is home to many vendors all vying for market share. Stand out by understanding your potential customer's needs to create a value greater than your asking price.

Learn your buyers
Observe what the Butler Flea Markets visitors are generally attracted to. Which booths do they linger at, to whom do they speak? Capitalism is beautifully simple, break it down, adapt and evolve.

Cross-promote
Find ways to collaborate with other sellers. If you sell children's clothing, ask a "neighbor" who sells children's toys to recommend your products in exchange for promoting his/hers.
You can lease space(s) for a single Sunday only, or extend up to a year or longer and anything in between. The longer the lease, the cheaper the rates! We will even make room up front for a full time Monday-Saturday retail area.
Pick your spot, pick your day(s)
Need a table, electricity, internet, time to set up and organize, we can help!
Vehicle must be parked within your booth area. Keep emergency lanes open at all times.

Merchandise must be confined to Tenant's space. Respect thy neighbor and all public lanes/hallways.

No smoking inside the building. Please dispose of your cigarette butts in cigarette disposals.

No alcohol, drugs or drug paraphernalia permitted on the property.

The only animals allowed on property are service animals & they must be leashed with service jacket.

All Tenants' minor children (under 18) must be accompanied and under direct supervision at ALL times.

No counterfeit, pirated, bootleg, or stolen goods. No subletting or loaning of booths.

Reservations are non-refundable, but credit can be issued for outside booths if we are contacted prior to 7am Sunday.

Tenant is expected to use good judgment should a problem arise. No unreasonable noise, disruptive or abusive behavior will be tolerated.

All outside asphalt spaces (1-149) are to be clear of all waste and merchandise by 3pm Sunday.
We want you to succeed
Let us know how we can help.
We are always just a phone call away and our staff is always on duty during all Vendor days and when open to the public. So go on, create and test-sell that new idea or product. We are cheering you on!
Mention us in your social posts, and we will share, comment and like!